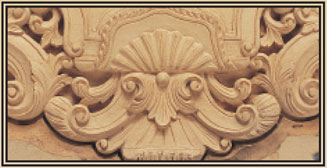 Exquisite design and superb craftsmanship are just two of the many reasons to consider a Porter & Sons Custom original billiards table. Each table is made from the finest materials available to ensure enduring quality and exceptional playability.
WOODS
Porter & Sons uses some of the world's most exotic and expensive woods to craft their elegant tables. Woods like Carpathian elm burl, African sedua, zebrawood and Brazilian rosewood, treasured for their beautiful grains and rich color, grace the top rails of many of our tables. Alder, Honduran mahogany and Appalachian oak, valued for their strength, beauty and excellence for carving, are used for the cabinets.

The beauty of the wood is enhanced and preserved by hand-rubbed lacquer finishes. One is a piano finish, deep and rich like the Old-World finish of a Stradivarius violin or a Steinway piano. The other, a French Patina finish. A softer satin sheen for a rich antique look that would take centuries to perfect through natural aging.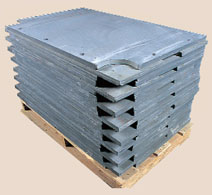 SLATE
At the heart of each table ia a set of slate so perfectly formed by nature and so perfectly honed by man, it could play perfectly for centuries. With a thickness of at least one inch or more, each set is diamond honed for a silky smooth and steadfast level playing surface. Some slates absorb moisture that can cause them to crack from changes in humidity. Ours, chosen for a relatively low moisture content, are virtually immune to such problems.
LEATHER
Our leather net drop pockets are made from high-grade leather of substantial thickness and excellent suppleness. A penetrating dye carries the color deeply into the body of the leather. Molded over die-cast pocket irons, these pockets can endure even the most brutal of ball strikes without tearing or breaking. Styles include shield, gold bouillon fringe with hand-braided silk tassels and other decorative features.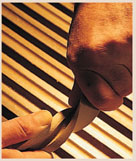 RUBBER
As beautiful as the wood rails of a table can be, it is the rubber cushions attached to those rails that assures a table plays true. Our cushions are professional-style full-profile cushions made of vulcanized AAA grade gum rubber for a lively rebound that is uniform around the entire perimeter.
CLOTH
Our quality billiard cloth, a 21-ounce wool blend, enhances playability by providing good ball control. Color can be selected to match or contrast with the table finish or decor of the table environment.