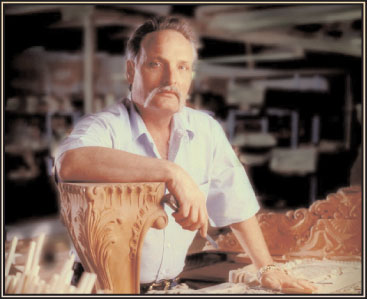 he moment I was old enough to push a broom, I began my apprenticeship with master cabinetmaker, Charles A. Porter, my father. Some of my earliest memories are of his sketches blanketing the kitchen table, the aroma of sawdust and linseed oil permeating our home and the conversations we'd have about his father, patternmaker and woodcarver, Dwight Pemberton Porter.

Woodworking was our passion. Dad worked on his designs around the clock. I paid attention to every detail. He'd carve late into the night. The rhythmic sound of his mallet striking the chisel often lulled me to sleep.
He spent hours in the library where he found inspiration in the works of master craftsmen like Chippendale, Sheraton, Boulle, and Adams. I found inspiration in him. The result of dad's dedication was nothing less than his creation of the world-renowned Renaissance line of quality billiards tables.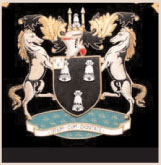 The Porter family motto, "OTIUM CUM DIGNITATE," "Walk With Dignity," has been our inspiration for IV generations.
Dad and I worked side by side in our Southern California facility for over 25 years. When Renaissance merged with AMF Billiards and Games in 1991, I knew it was time to come to Missouri and carry on the legacy. I've spent the last seventeen years keeping my fathers vision of an heirloom-quality billiards table alive.
Today, we've evolved into Porter & Sons, LLC and continue to set the standards for quality design and superb craftsmanship in the billiard tables and game room furniture industry.
We feature Charles A. Porter's Tiffany Heirloom Billiards Collection as well as Dwight T. Porter's custom builds. Like fine jewelry, each table is drawn freehand on paper first then molded by master craftsmen into unique, one-of-a-kind works of art hand-carved from the finest woods from the world's most exotic locations. Tables as beautiful as any Renaissance-era work of art and engineered for enduring quality and exceptional playability.
I'm joined in this endeavor by my two sons Charlie and Cameron, the fourth generation of Porter artisans. Without a doubt, the drive to work for perfection is evident in their attention to every aspect of the family business. Nothing could make me more proud.
In the summer of 2007, AMF Billiards & Games
sold the Renaissance trademark to an Ohio based
company that predominantly imports pool tables
and game room furniture. Neither Porter & Sons
LLC, it's designers, craftsman nor officers have
any affiliation with said company.